RUSSIAN – ENGLISH – SERBIAN – ITALIAN – SPANISH – FRENCH – GERMAN – PORTUGUESE – TURKISH

The first Convention on PRK-1U will take place on August 8, 2021. During the Convention we will have a new lecture by Grigori Grabovoi, answers to questions, and his video message for conducting concentration using PRK-1U with the goal of control: "Implementation of events ensuring eternal life for everyone". This very meaningful event will be translated into 12 languages, and during it you will listen to speeches by teachers from all over the world ....
 RUSSIAN – ENGLISH – SERBIAN – ITALIAN – SPANISH – FRENCH – GERMAN – PORTUGUESE – TURKISH
---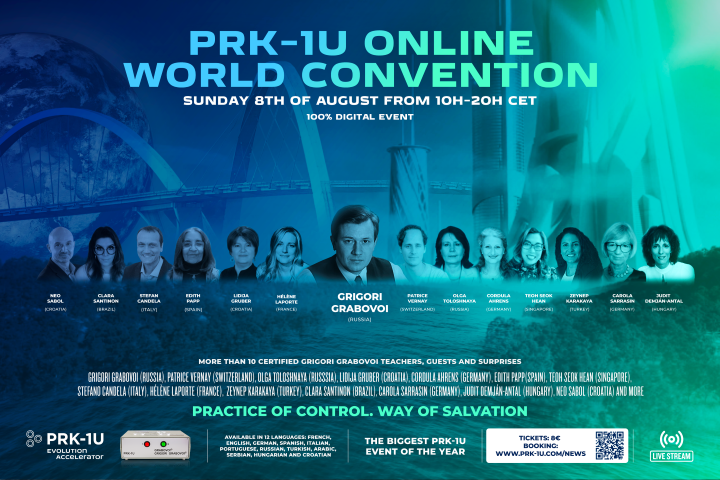 ---
---
Dobar dan svima, vama koji pratite predavanja Grigorija Grabovoia širom sveta.
8. avgusta 2021. god. održava se prva konvencija PRK-1U, za vreme koje nas očekuju novo predavanje Grigori Grabovoia, odgovori na pitanja i njegovo video-obraćanje radi sprovođenja koncentracije sa primenom PRK-1U, sa ciljem upravljanja: "Realizacija događaja koji obezbeđuju večni život svima".

Ovaj događaj, velikog značaja i intenziteta, biće preveden na 12 jezika i sadržaće izlaganja predavača iz celog sveta sa sertifikatom obrazovnog centra Grigori Grabovoï, nastupe nadahnutih umetnika i, naravno, intenzivno vreme koje prenosi lično Grigori Grabovoï. Očekujemo više od 17.000 osoba na ovom jedinstvenom događaju tokom kojeg ćemo se svi zajedno koncentrisati, a u tome će nam pomoći i jedan PRK-1U. Tema ovog susreta biće "Praksa kontrole. Put spasenja". Prijavite se odmah klikom na link u nastavku: PRK-1U World Convention, Sunday, August 8, 2021. 

Radujemo se što ćemo se sresti na ovom izuzetnom događaju, slobodno prenesite ovu poruku svojim prijateljima, vreme je da se ovo fundamentalno učenje što više raširi po celom svetu! Želimo vam sjajnu kontrolu stvarnosti i do skorog viđenja.

S poštovanjem, Administracija Obrazovnog centra.
---
---
---
Bonjour à tous ceux qui suivent les Enseignements de Grigori Grabovoi partout dans le monde !
La première convention sur le PRK-1U aura lieu le 8 août 2021. Au cours de cette convention, vous allez découvrir une nouvelle conférence de Grigori Grabovoi, ses réponses à des questions du public et son message vidéo pour conduire une concentration à l'aide du PRK-1U dans le but de contrôler : « La mise en œuvre d'événements assurant la vie éternelle à tous ».

Cet événement sera traduit en 12 langues, et au cours de celui-ci, vous aurez la possibilité d'écouter des discours d'enseignants du monde entier certifiés par le Centre éducatif Grigori Grabovoi, une présentation d'artistes inspirés et, bien sûr, des informations très importantes que Grigori Grabovoi lui-même vous partagera.
Plus de 17 000 personnes sont attendues à cet événement unique, au cours duquel nous nous concentrerons tous ensemble avec l'appui de PRK-1U.
Le thème de la journée sera : « Pratique du contrôle. Voie du salut ».
Inscrivez-vous dès maintenant en cliquant sur le lien ci-dessous : PRK-1U World Convention, Sunday, August 8, 2021.

Au plaisir de vous rencontrer lors de cet événement exceptionnel, n'hésitez pas à transmettre ce message à vos amis - le moment est venu pour cet Enseignement fondamental d'être largement diffusé à travers le monde !
Nous vous souhaitons une grande maîtrise de la réalité et vous disons « A bientôt ! »

Meilleures salutations, L'Administration du Centre Éducatif
---
Hallo an alle, die den Lehren von Grigori Grabovoi auf der ganzen Welt folgen!
Die erste Tagung zum PRK-1U findet am 8. August 2021 statt. Während der Tagung gibt es einen neuen Vortrag von Grigori Grabovoi, Antworten auf Fragen und seine Videobotschaft zur Durchführung von Konzentration mit dem PRK-1U mit dem Ziel der Kontrolle: "Durchführung von Veranstaltung, zu Sicherung des ewigen Lebens für alle".

Diese sehr bedeutungsvolle Veranstaltung wird in 12 Sprachen übersetzt, und währenddessen hören Sie Reden von Lehrern aus der ganzen Welt, die vom Grigori Grabovoi Educational Center zertifiziert sind, eine Präsentation inspirierter Künstler und natürlich die wichtigsten Informationen, die Grigori Grabovoi selbst Ihnen mitteilen wird.
Mehr als 17.000 Menschen werden zu dieser einzigartigen Veranstaltung erwartet, bei der wir uns mit der Unterstützung des PRK-1U gemeinsam konzentrieren. Das Thema des Tages lautet: "Praxis der Kontrolle. Der Weg der Rettung".
Melden Sie sich jetzt an, indem Sie auf den untenstehenden Link klicken:
PRK-1U World Convention, Sunday, August 8, 2021.

Wir freuen uns darauf, Sie bei diesem außergewöhnlichen Ereignis zu treffen, zögern Sie nicht, diese Nachricht an Ihre Freunde weiterzuleiten - die Zeit ist gekommen, dass diese grundlegenden Lehren in der ganzen Welt verbreitet werden!
Wir wünschen Ihnen große Kontrolle über die Realität und sagen "Bis bald!"

Mit freundlichem Gruß, Administration des Bildungszentrums.
---
---
---