Dear friends!

The Educational Center of Grigori Grabovoi invites you to the optional WEBINAR "Health Formulas"

Date: January 14, 2022 Friday

Time: 8pm CET, 11am Pacific, noon Mountain, 1pm Central, 2pm Eastern

Teacher: Evgeniya Uzyukina
English Translation by Delia Dykes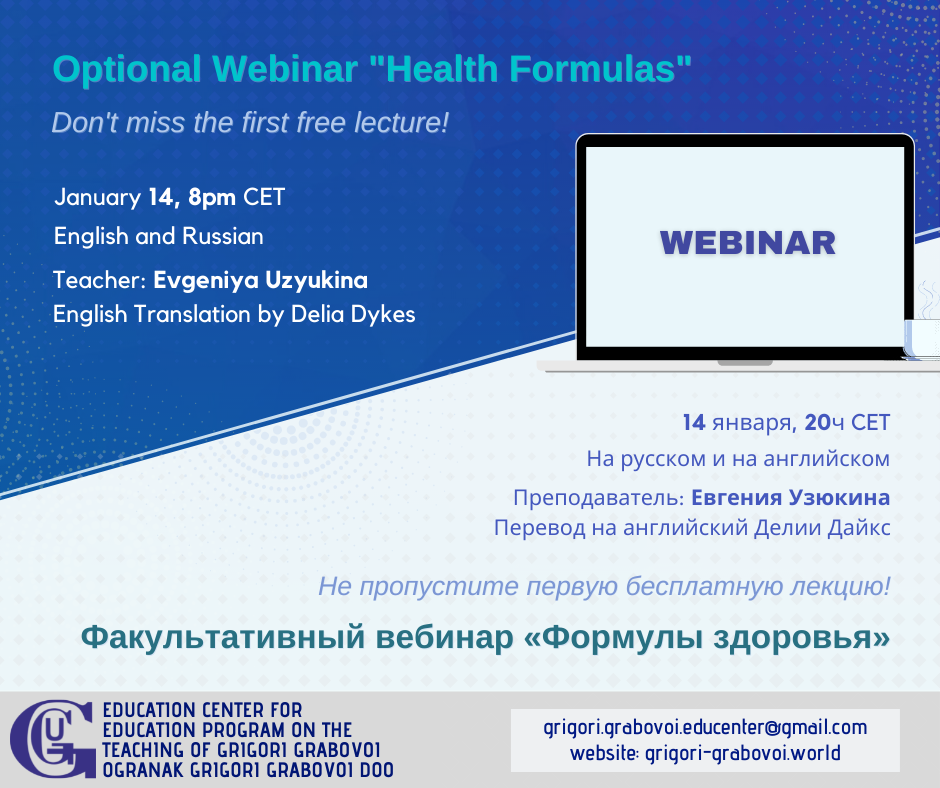 ---
The series of lectures on complete restorative complex of systems and organs are created by Grigori Grabovoi in 2000, and he named it the Formulas of Health.
Based on the personal experience of Grigori Grabovoi, catastrophes can be prevented by the consciousness of the person. One can control the reality including one's health and other material or non-material processes based on one's consciousness and one's perception. The human body is a link between the external world and the internal world of a person, and knowing the location of one's thoughts as relative to one's physical body, one can begin to control one's own health or the health of others. Restoration of health, therefore can be done through thoughts. Knowing where to place your thoughts at the desired point in the space near the person, there is a recovery from diseases. Results of such are documented through practical work of many years published in the various volumes "Practice of Control. Way of Salvation".
These series of lectures are easy to learn and can be applied to ourselves as well as others for restoration of health and normalization of events. We will start with a free lecture introducing this powerful work of Grigori Grabovoi. Everyone is welcome but you need to register to receive zoom link and instruction to access this live webinar. Recording will be provided to registered participants. Please sign up early to reserve your spot as space is limited. Please share this and tell your friends. 
To register, send email with subject line "Formulas of Health - FREE class" to This email address is being protected from spambots. You need JavaScript enabled to view it.
---
Дорогие друзья!
Образовательный Центр по стандартной Программе обучения Учению Григория Грабового  приглашает вас на факультативный ВЕБИНАР "Формулы здоровья"
Дата: 14 января 2022 года, Пятница
Время: 8 вечера по центральноевропейскому времени, 11 утра по Тихоокеанскому времени, полдень в горах, 1 час дня по Центральному времени, 2 часа дня по Восточному
Преподаватель: Евгения Узюкина
Перевод на английский Делии Дайкс
Цикл лекций по полному восстановительному комплексу систем и органов создан Григорием Грабовым в 2000 году, и он назвал его "Формулы здоровья".
Основываясь на личном опыте Григория Грабового, катастрофы могут быть предотвращены сознанием человека. Человек может управлять реальностью, включая свое здоровье и другие материальные или нематериальные процессы, основываясь на своем сознании и своем восприятии. Человеческое тело является связующим звеном между внешним миром и внутренним миром человека, и, зная расположение своих мыслей относительно своего физического тела, можно начать контролировать собственное здоровье или здоровье других. Восстановление здоровья, следовательно, может быть осуществлено с помощью мыслей. Зная, где разместить свои мысли в нужной точке пространства рядом с человеком, происходит выздоровление от болезней. Результаты такого рода документированы в ходе многолетней практической работы, опубликованной в различных томах "Практика управления. Путь спасения". 
Эти серии лекций просты в освоении и могут быть применены как к нам самим, так и к другим людям для восстановления здоровья и нормализации событий. Мы начнем с бесплатной лекции, посвященной этой мощной работе Григория Грабового. Приглашаются все желающие, но вам необходимо зарегистрироваться, чтобы получить ссылку и инструкции для доступа к этому живому вебинару. Запись будет предоставлена зарегистрированным участникам. Пожалуйста, зарегистрируйтесь заранее, чтобы зарезервировать свое место, так как количество мест ограничено. Пожалуйста, поделитесь этим и расскажите своим друзьям.
Для регистрации отправьте электронное письмо с темой "Формулы здоровья" по адресу This email address is being protected from spambots. You need JavaScript enabled to view it.